Loading ...
Der deutsche Game of Thrones Podcast ist wieder auf Sendung
"gelangweilt und unorganisiert" – ein anonymer Hörer
Im April 2019 war es endlich soweit. Das Warten hat ein Ende und die 8 Staffel von Game of Thrones geht endlich weiter. Selbstverständlich stehen dann auch die Nerdizisten bereit um die beliebte Podcastshow "Game of Nerds" aus dem Winterschlaf zu wecken.
Wir analysieren die erste Folge der 8. Staffel "Winterfell" in allen Details. Wir tippen die Überlebenden, Toten und den neuen Besitzer des eisernen Throns der finalen Season des Lieds von Eis und Feuer.
Hier die Vorlage zum Tippspiel der Nerds zum Ausgang der Staffel: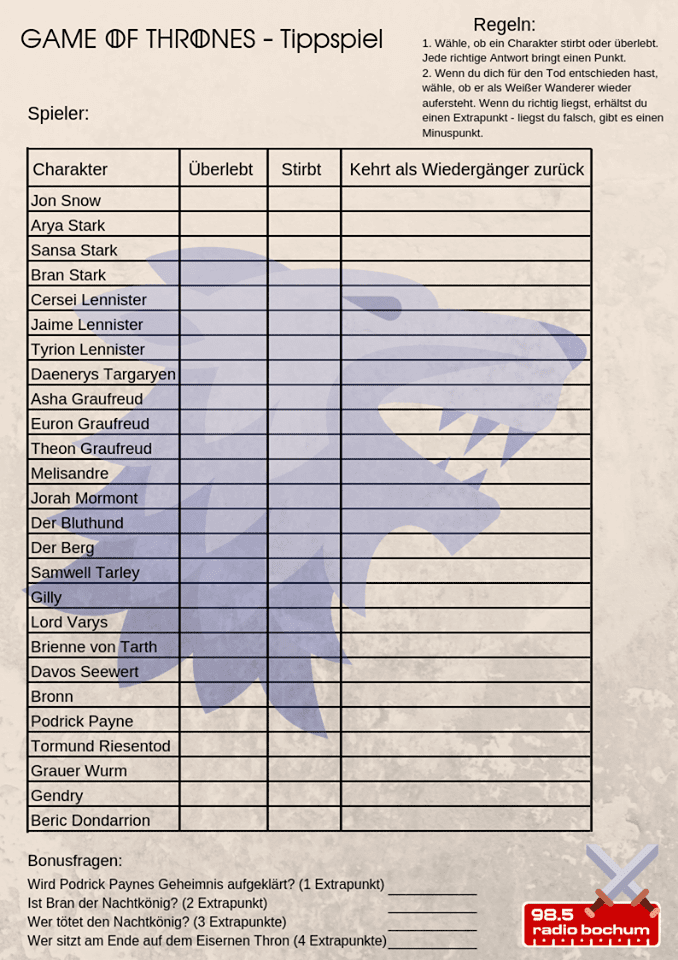 Wollt ihr mitraten? Dann schreibt Eure Tipps in die Kommentare. Was sind Eure Theorien? schreibt es in die Kommentare oder an info@nerdizismus.de
---
Die Nerdizisten in dieser Episode:
Michael
Chris
Forever Nerdgirl Anja
So könnt ihr uns abonnieren:
Die bisherigen Episoden: